The LivingWell Nutraceuticals - Healthy Back Institute
Jesse Cannone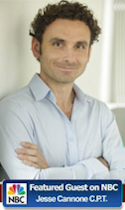 Jesse Cannone realized early in his career as a personal trainer many people were suffering from back pain and sciatica that could be relieved without the need for surgery and medications. From this, Jesse started The Healthy Back Institute with the support of massage therapist Steve Heffero. They assembled a system to self-evaluate your pain, and self-treatment plan. He offers alternative suggestions and natural supplements to combat pain. The goal is to address the root cause of the pain and not just mask the symptoms. *
Jesse has appeared on NBC and many other media and is recognized as a leading back pain expert in the US.
Additionally, he designed a system using muscle balance therapy method to take the stress off of you back and start to relieve the pain. This approach is to put the muscles back into balance, and this requires doing an unbalanced workout to strengthen the weak muscles. There are videos and some do-it-yourself muscle balancing courses out there. As with any treatment, it is best to seek the help of a professional. If you don't see a specialist for your back pain, at least consult a doctor about the effectiveness of muscle balance therapy on the type of pain you have. If you take matters into your own hands, you may end up hurting yourself worse. Once you see a specialist, they can help you safely balance out your muscles and relieve your pain. If you are experiencing back pain, you might want to consider muscle balance therapy because it does seem to help with back pain.
The Healthy Back Institute

The Healthy Back Institute offers a full range of self-treatment options including their flagship product, Living Well Nutraceuticals Heal-n-Soothe. These supplements are manufactured with quality ingredients from natural resources to address the root cause of pain. This system offers the ability to have natural healing without side effects, unlike popular over-the-counter and prescription drugs.
Additionally, The Healthy Back Institute offers many free trial offers, DVD, books, and equipment to help you relief pain.